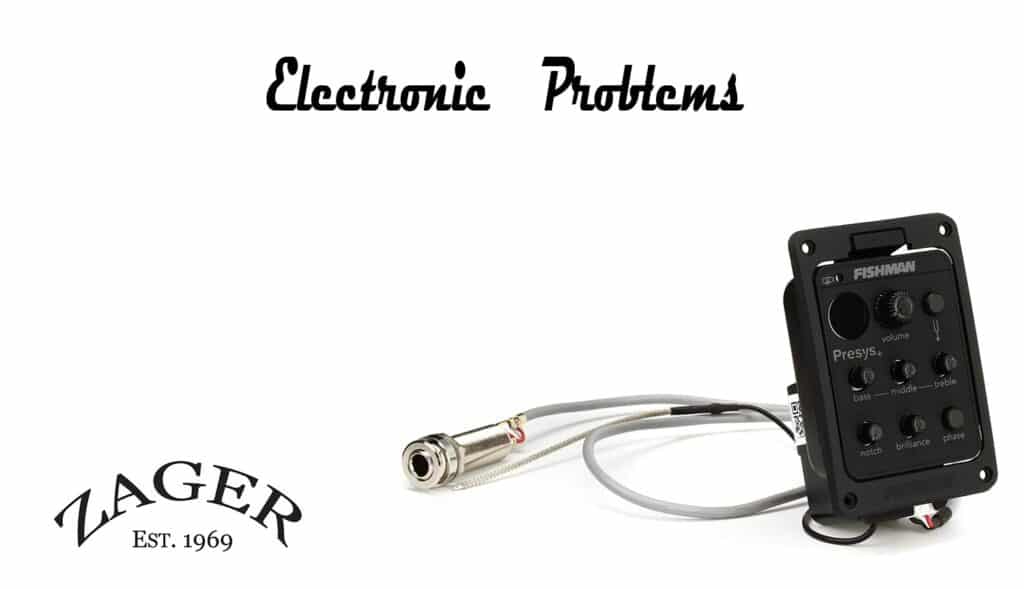 Click here for instruction manuals for all Fishman models
If your Zager Guitar's having an electronics issue the checklist below will get your guitar working again.
Our Fishman electronics warranty is 2 years, same as $10,000 Martin, Taylor, Fender, and Gibson guitars. With that said if you have a problem and we have a part you need we'll send it free of charge no matter how old your Zager is.
If you go through the checklist below and are still having issues, most of these problems revolve around a loose wire which any local shop can repair for $30 without $200 in shipping fees, risk of damage in shipping and long delays. We recommend Guitar Center and cover all costs if your guitar's under 2 years old https://stores.guitarcenter.com/browse/
If you need a brand new replacement electronics systems we offer those for wholesale at https://zagerguitar.com/accessories/
If you have specific questions about your Fishman electronics system we recommend contacting Fishman direct as they build these systems and know them well . https://www.fishman.com/contact/
System won't power up
Is the power button on?    Have you replaced the battery?  We ship with new 9 volt batteries but sometimes climate changes during shipping will damage them or they just go bad.  If you need a new battery our guitars accept all 9 volt batteries and most times this is all they need. 
Battery discharges too fast
Uneven sound when plugged into an amp
Where is the USB plug-in on Aura system (80 and 900 Series)
Humming/buzzing sound when electronics plugged into an amplifier
Crackling sound when plugged in
How to replace the battery
My Fishman Aura system got pushed in, so I can't open it (80 and 900 series)
The battery compartment won't close  (ZAD50, ZAD20, Parlor, Travel)
I've tried everything, and my electronics still won't work