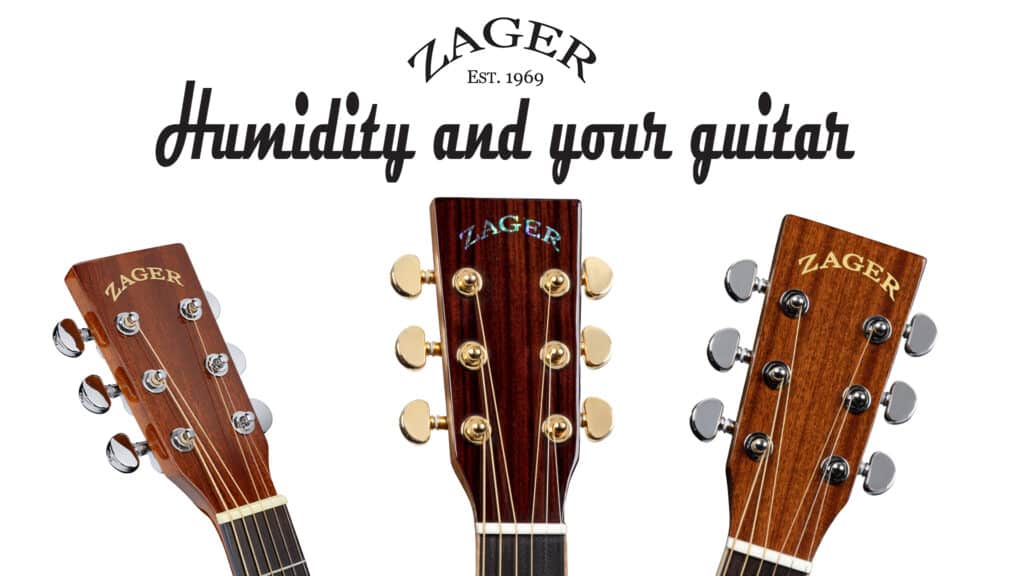 ALL guitar manufacturers require their guitars to be stored in 50% humidity or higher at all times. If humidity is not maintained you will have the issues listed below. If you're experiencing any of these issues, at some point your guitar's woods got dry. Damage from dryness is not warranted by any manufacturer, but if you click on the issue you're experiencing, Mr. Zager will show you how to repair it. If it's a complicated repair that requires extra help, Mr. Zager will guide you on what to do.
FAQ
I tried your hydration method and it didn't work
Zager's hydration method has been used over 75 years by millions of players with close to a 100% success rate.  If you didn't get results it means you didn't follow the method exactly.  If you watch this video it will guide you and you WILL eventually get results. https://www.youtube.com/watch?v=y2F-IX1JlnA
I raised my humidity to 50%, why is my guitar still buzzing?
50% humidity is a good number to maintain your guitar (we keep our shop at 65%+) but it will not move the woods back into their original position. To do this you need humidity levels at 85% to 90%. This is only done by super hydrating your guitar using the hydation method as shown in this video. https://www.youtube.com/watch?v=y2F-IX1JlnA
Your hydration method improved my guitar but it's still buzzing
This tells you immediately your issues are 100% water related. By simply repeating the process your guitar will continue to improve. If your guitar's been dry for several months or several years, it may take several months of watering to build water content back into the woods. Remember though that dry warped guitars most shops won't even attempt to repair as it's near impossible straightening warped woods using conventional methods. Our watering technique takes guitars shops call "non repairable" and puts them back to within 1% of their original playability and sound.
My local shop said my guitar needs more than water.
If your guitar's been really dried it may indeed need more than water, but in three generations building guitars over 100 years, we've found all these guitars need is what they lost…water. Guitar shops are notorious for telling uninformed players their guitars need massive amounts of work so they can charge massive amounts of money. It's unfortunate, but being in the guitar business over 100 years we've seen this is quite common. 99% of issues caused by dryness can be repaired with water. If you think your guitar needs more work we recommend at least 3 rounds of watering . If you see ANY improvement this tells you immediately your problems are water related.
My local shop says my guitar has structural issues 
Your luthier may be correct.  When you dry out the woods on a guitar they warp causing movement, separation, and eventually cracks which are all structural.   By putting water back into the woods though it will move the woods back into their original position which is why this method works so well. Depending on how dry your guitar is it may require additional work from a shop but always start with hydration first, minimally 3 rounds.
My local shop says my guitar is not dry
If your guitar's experiencing any of the signs of dryness listed at the top of this page your guitar's woods are dry.  These symptoms have been documented and verified by EVERY guitar manufacturer in the USA. 
Why is my Zager more sensitive to humidity than my other guitars?
Zager Guitars have a higher level bracing system you generally see in high level $10,000+ guitars which give them their extreme playability and sound. This system is more sensitive to temperature and climate changes, but it's also why Zager guitars are rated in the top 2% in the world.  This video explains in greater detail https://www.youtube.com/watch?v=d4Ps67D2BaA
I hydrated my guitar and it plays and sounds great, but it now has dark spots on the back.
This is because your guitar was on its back when you watered it . Your guitar must be standing up vertically when doing the process as the woods at the bottom are thicker. Generally we find as your woods settle after the hydration process most of these spots disappear.
I hydrated my guitar and it plays and sounds great, but it now the grains on the face are bumpy
This is caused by water being introduced back into the woods and is very common. Usually we find this dissipates as the water absorbs into the grains.
What should string height be after my guitar has been fully hydrated.
Mr. Zager sets action at 3/16 measuring from the 12th fret space to the top of the big E string. If your guitar has been dried out you will not be able to go this low without buzzing. By hydrating your guitar and raising the face back into its original position you will be able to turn the truss key clockwise to lower action to 3/16 at the 12th fret space.
I hydrated my guitar and it plays and sounds great, but the frets are still sticking out and sharp.
When your guitar got dry the woods on the neck contracted and shrank leaving the metal frets sticking out. All Mr. Zager does with these guitars is takes a small piece of fine grit sand paper and folds it over a few times making it thicker and runs it lightly down the side of the neck going over those protruding frets. This smooths them out so they're no longer hurting your fingers.
I hydrated my guitar and now string height is too high
This is very common as hydration will make the face of the guitar raise back into position. At this point you can turn the truss key clockwise to lower action. Mr. Zager has a video on setting action on our help page at http://zager.com/help
Why guitar shops don't talk about watering
Here's a secret many guitar shops don't talk about. 99% of buzzing, playability and sound issues can be solved with water. When a guitar gets dry the face lowers 1-2 millimeters. This lowers the strings closer to the fretboard causing buzzing, playability, sound issues and throws off the geometry of the entire instrument. To repair your guitar shops will recommend installing new frets, filing the frets, dressing the frets, building a new bridge, building a new saddle, building a new nut, replacing the entire neck. All these repairs can help alleviate issues caused by dryness but you'll spend hundreds of dollars and your guitar still won't be quite as good as it was new. Another option is you can hydrate your guitar which will put the body parts back into original position fixing all these issues naturally for free. Why don't shops talk about this? BECAUSE THEY CAN'T CHARGE YOU FOR IT. We'd like to say these practices are rare, but being in the guitar business 100 years we've seen it's actually the norm.
What is proper humidity for my Zager
We keep our shop at 60-70% humidity depending on the season and recommend these numbers for all our models, especially our 80 and 900 Series guitars which have a higher-level bracing system. All guitars from all manufacturers must be stored in minimally 50% humidity at all times. On higher-level acoustics like our 80 and 900 series we recommend over 60%.  If not the woods will warp causing playability and sound issues and will eventually crack. Damage can happen in a matter of weeks if conditions are severe.  New guitars with high-quality solid woods and low action are most susceptible.  Less expensive guitars with high action will not be affected like a precision-made solid wood guitar with low action.  This type of damage is not warranted by any guitar manufacturer but it is repairable.
I've tried everything and my guitar is still buzzing
When Mr. Zager repairs a dried out guitar that's been deemed "non repairable" the first thing he does is hydrate it using the method in this video and nearly 100% of these guitars play perfectly again. https://www.youtube.com/watch?v=y2F-IX1JlnA The thing he does differently though is he hydrates these guitars multiple times. If you have a guitar that's been dry for months or YEARS it may need 3, 5 or even 7, 72 hour rounds of hydration because it takes time building water in a guitar that may have zero water content.
 
No guitar company warrants damage from dryness but Mr. Zager provides all the knowledge he's gained in working with guitars over 80 years which allows most of our players to fix their own guitars free of charge. With that said if you're the type that is not "hands on" most shops like Guitar Center can repair these issues in a short amount of time for little investment. Mr. Zager also services guitars on our service page at http://zager.com/service