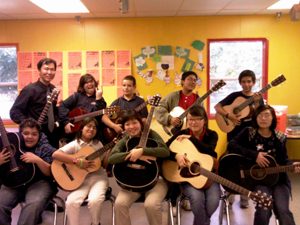 Zager Guitar Music Therapy and Education Foundation was created by Denny Zager after he nearly died from a stroke that left him partially disabled.  When conventional therapies failed Denny was able to rehabilitate himself doing what he's loved most in his life…playing guitar.
Every year people suffering from Heart disease, Stroke, Cancer, Alzheimer's disease, Multiple Sclerosis, Diabetes, many of the deadliest diseases in the world, use the power of music therapy to help their conditions and even heal themselves when conventional methods fail.
As Zager Guitars builds the easiest playing guitars in the world and own the oldest guitar instruction library on the world wide web, Denny felt he could help others as he helped himself and has now devoted his life to giving the gift of music to those in need.  If you would like to help contact Dennis Jr. at dennis@zager.com as we would love to have your support.