Denny Zager is a true guitar master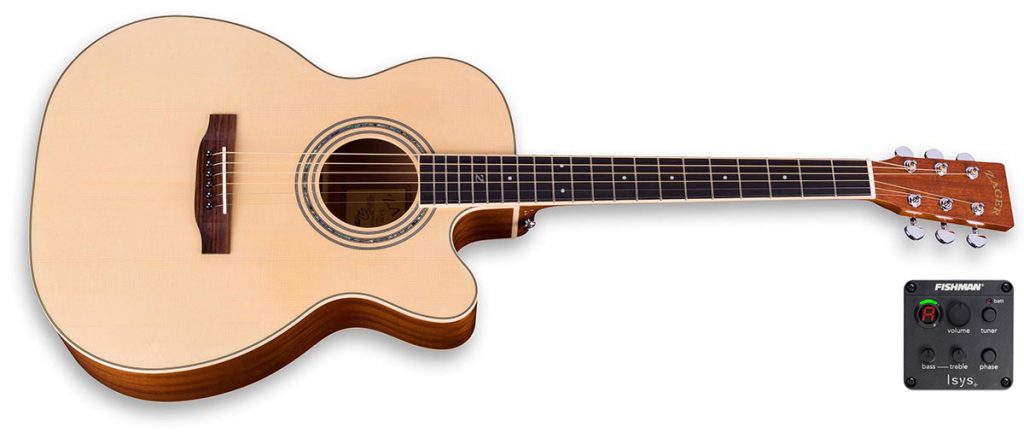 ZAD50CE Solid Spruce/Mahogany Acoustic Electric Smaller "OM" Size
In Stores: $2000+ Our Price: $1,495
2 Available as of 05-29-2022
Free $625 accessory pack today

30-day 100% money back guarantee that includes shipping fees both ways.
Possibly the last guitar you'll ever buy.  60 years of playing, performing and teaching guitar has given Denny an advantage over the majority of guitar builders today. Denny understands the demands of the professional player because he is one. He discovered there are certain key elements that make a great guitar, and with that knowledge he created the Zager ZAD50 Series.  Elements like solid wood construction, high quality hardware, a custom neck design that feels good in your hand, string spacing that allows you to move faster on the fretboard, that simultaneously prevents buzzes and rattles, combined with a special bracing system that produces one of the best sounds in the guitar industry today. Read more
In designing the ZAD50CE "OM" Denny wanted to build a guitar that had the special details you see in only $2500 instruments.  Things like a Venetian cutaway box design that allow you to slide your hand down low "into" the guitar for easier playability.  Hand scalloped bracing that gives the guitar a more powerful robust sound.  Hand filed frets that allow your fingers to glide over the fretboard without chafing your fingertips.
For 2016 Denny called Bob Fishman at Fishman Electronics (considered the best guitar electronics company in the world) and ordered the Fishman 60 Series electronics package used in our $1500 ZAD80 Series guitars.  The electronic transducer system and automatic tuner allow you to plug into any amplifier or PA system and play it like a full blown electric.  The onboard equalization package provides infinite sound possibilities with a built in automatic tuner that tunes your guitar in a fraction of the time it takes using conventional methods.  When you're tired of electric simply unplug and you'll have the traditional sound of an acoustic.
Pros using the ZAD50CE "OM" on stage say it matches or betters $2000 instruments, but with easier playability and a much lower price since you're buying direct from our workshop in Lincoln, Nebraska. Be sure to read artist comments and magazine reviews on the 50 as it consistently rates in the top 5% of acoustics made world wide. 100% money back guarantee including shipping fees both ways. It's a lifetime instrument so it comes with a lifetime warranty.
Smaller "OM Size" Orchestra Model.  15% smaller than full size.  Similar to Martin OOO and Taylor Grand Auditorium.   Narrower hour glass shape sits lower in your lap making it easier to pull in close under your arm.  Thinner body provides a slightly thinner sound but doesn't overpower mics in the recording studio.
Solid wood construction sounds better every year as it ages.
Venetian cutaway box design allows you to slide down low into the box for easier playability.
Built in genuine Fishman 60 transducer  system from our $1500 ZAD80CE allows you to plug into any amplifier or PA system and play it like a full electric guitar.
Built in genuine Fishman 60 automatic tuner system from our $1500 ZAD80CE tunes your guitar perfectly in seconds and if you're a beginner actually trains your ear for perfect pitch.
Built in genuine Fishman 60 equalizer system from our $1500 ZAD80CE gives you infinite sound possibilities allowing you to dial in the perfect sound.
Hand carved bracing for greater movement of the soundboard providing a richer sound.
Slim neck design feels natural in your hand making it easier to form chords.
Custom string spacing for greater speed and accuracy (and less rattles).
Zager soft touch fret design for less string bite and finger fatigue.
Adjustable truss rod to raise or lower action depending on your playing style.
Special ultra thin high gloss finish allows more movement of the body for deeper sound
Hand carved bone nut and saddle. (Found on predominantly $1500+ guitars).
Hand laid abalone inlay rosette with pearl fret markers.
Ivory binding detail and zipper stripe down back (Found in predominantly $1500+ guitars).
Genuine Grover tuning machines (best in the world).
100% money back guarantee
Lifetime warranty
Features
OM Size Dimensions

Height: 40 inches
Box length: 19 inches
Waist: 9.75 inches
Widest bout: 15.5 inches
Depth: 4.25 inches
Scale: 25.5 inches

OM Style

Orchestra models (referred to as OM's) have a body that is 15% smaller then our full size guitars. They have a slightly narrower hour glass design which make them sit lower in your lap so they're a little easier to get your arm around, especially if you're smaller in stature or if you have a larger mid section. Neck size and scale length are identical to our full size guitars.

Sitka Spruce Top

The most important part of an acoustic guitar is its top. The top acts like a speaker. When a string is plucked energy is transferred to the top and the top starts to move. Spruce offers a tight, punchy low end response with great projection. Players who demand a powerful sound with tons of projection will hear the benefit of a Sitka spruce top. Used on only the highest quality guitars in the world.
See full build sheet
Mahogany Back-sides

One of the most popular tone woods used on acoustic guitars today. If you're looking for punchy bass, solid mids and sparkling highs mahogany is the wood you want on your next guitar. Acoustic guitars in general tend to live in the midrange portion of the sound spectrum, and mahogany in particular displays this characteristic best. Mahogany's tendency to emphasize midrange tones gives this guitar a rich full sound no matter the playing style. You can fingerpick, strum, or flatpick and mahogany always delivers.

Mahogany Neck

Mahogany—one of the most popular tone woods used on acoustic guitars for the last 50 years

Mahogany Headstock

Mahogany is lightweight yet strong, and its timeless look is used on many quality guitars. The guitar head stock configuration is a registered trademark and is used under license from C.F. Martin & Co. Inc. of Nazareth, Pennsylvania, USA.

Zager Design (Hand Scalloped) Bracework

The technique of scalloping or shaving the braces can have a huge impact on the power and tone of an acoustic guitar. By shaving or reducing the thickness of the brace, it becomes more flexible and therefore lets the top move more freely. When done by a Master Luthier the brace maintains its structural integrity, while making the top more efficient. The result is faster attack, longer sustain, more bass, more power, and an overall improvement in the whole tone system.

Zipper Stripe Back-detail

Laid by hand one piece at a time. Adds to the overall beauty and sets off the color of the wood. Found on only the highest quality guitars in the world.

High Gloss Finish

High-gloss finish provides excellent protection but at the same time is extremely light and elastic. This is a crucial point in both the sound of the guitar and its ability to age—which is what makes a guitar sound better year after year. A thick finish muffles a guitar's vibration and blocks aging.

Custom Adjustment Setting Truss-rod

Denny designs his guitars with a truss rod adjustment setting that allows you to dial in your guitar to your particular playing style. In this way if you're a heavy handed player you can set the action higher so you can "get on it" a little for more power, and if you're lighter handed touch player you can dial in the action low so you can move faster and play longer with less fatigue.

Genuine Fishman Built-in-transducer

Fishman transducers are the highest quality transducers used in acoustic guitars today. A transducer is an amplification device placed under the saddle which allows you to plug into an amplifier and play an acoustic guitar like an electric guitar. This is all run by an on-board electronics package and equalizer that allows you to control the sound. A transducer properly installed by a pro luthier will bring out the bass response and rich ambiance of your guitar's wood. Done improperly your guitar will sound flat and have uneven tone quality.

Genuine Fishman Isys Plus Built-in-automatic-tuner

Ask any pro who makes the finest guitar electronics systems in the world and 9 out of 10 will say Fishman. An electronic tuner allows you to tune your guitar in a fraction of the time it takes using conventional tuning methods. Simply hit a string and the LCD indicator guides you into perfect pitch. A red and green light instantly lets you know when the tune is dead on. This is a very important tool for the new player who is trying to develop and train their ear for perfect pitch. It's also helps the professional player who wants to get in perfect tune fas

Genuine Fishman Isys Plus Built-in-equalizer

Fishman equalizers are the highest quality equalizers used in acoustic guitars today. The equalizer is an electronic unit that controls the sound and volume when plugged into an amplifier or PA system. There are adjustments for highs, mids, lows, and presence. Fishman EQ's are used exclusively on high end acoustics by artists such as Bob Dylan, Paul McCartney, Alan Jackson and Aerosmith to name just a few.

Genuine Grover (gold) Tuning-machines

Genuine Grover sealed tuning machines are found on only the finest guitars made. Look at tuners on $2500+ acoustics and you will see the majority have "Grovers." Unlike open gear tuners where the tuning mechanism is exposed, Grover sealed tuners contain a lubricant that keep the tuning mechanism sealed air-tight so the gears turn smooth and continue to for the life of your instrument. Lifetime warranty. If you have a tuner go bad we'll replace it free of charge for life.

Bone Hand Carved Nut

Denny hand carves his nuts from bone for each guitar so the strings are set lower with custom spacing. Lower string heights make it easier to press down to form chords and it also increases finger speed. Custom spacing allows you to move faster with less buzzes, mutes, and rattles because you're no longer bumping adjacent strings. Custom string spacing makes it easier for all hands sizes big and small. Lifetime warranty. Break a nut and we'll replace it free of charge for life

Tusq Hand Carved Saddle

Denny hand carves each saddle for each individual guitar. Denny also adjusts the intonation settings to bring the guitar harmonically in balance with itself. This not only makes your guitar easier to play, but it also makes it sound more powerful. Customers say our guitars fall into tune easier and stay in tune longer...this is one of the reasons why. Denny uses only genuine "Tusq" brand saddles on his guitars which you generally only find on higher dollar acoustics . Lifetime warranty. Break a saddle and we'll replace it free of charge for life.

Zager Custom Lights Strings

Zager custom strings are designed by Denny exclusively for his Guitars. We have customers using all brands and gauges of strings on our guitars with excellent results (Elixir, Martin, Fender, Gibson, D'addario) but these are the strings our customers seem to like the most on our guitars. Hand wound daily in our shop in Lincoln, Nebraska.

Zager Soft Touch (Hand Filed) Frets

Denny hand files each fret one at a time on every guitar that leaves our shop. By filing the frets Denny achieves two important things. When sliding up and down the neck your fingers will no longer get irritated and sore and you won't suffer from what we call "String Bite" and overall finger fatigue. Secondly, when you file the frets by hand each fret will have the same uniform height. 9 times out of 10 when you have a buzzing string it has nothing to with your playing, it's because you have a guitar with a fret that's sitting away from the fret board hitting a string.

Lifetime Warranty

Our warranty is simple. Lifetime on all guitars. A quality guitar should be made to last a lifetime and if it doesn't it wasn't a quality guitar to begin with.
Zager Artists of the Month for May
See more artists
Warning
: mysqli_connect(): (HY000/1045): Access denied for user 'root'@'localhost' (using password: YES) in
/opt/bitnami/apps/wordpress/htdocs/wp-content/themes/storefront-zager-child/connection.php
on line
3
Warning
: mysqli_error() expects exactly 1 parameter, 0 given in
/opt/bitnami/apps/wordpress/htdocs/wp-content/themes/storefront-zager-child/connection.php
on line
5
Could not connect: