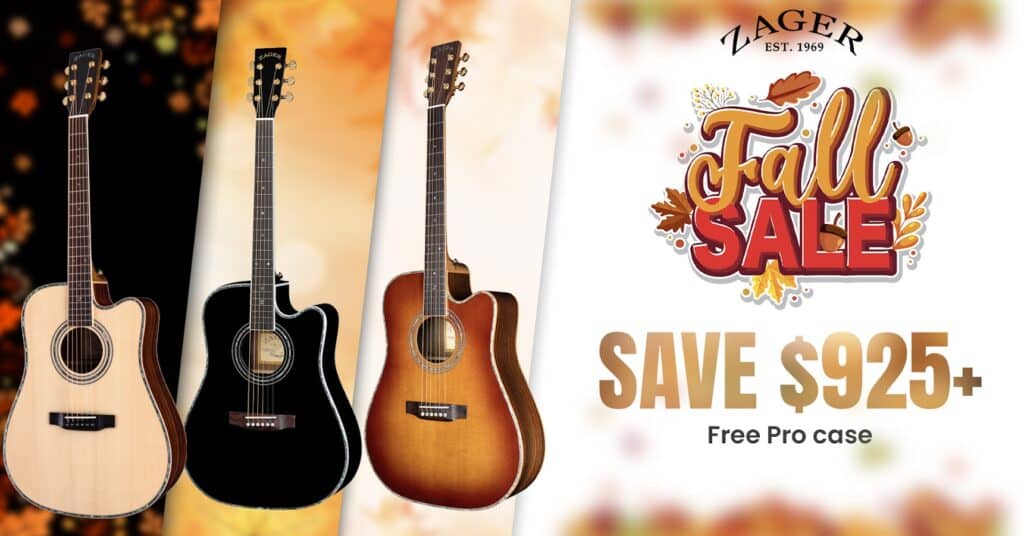 Happy Fall Y'all! Add any ZAD50, ZAD80, or ZAD900 to your cart and get an extra $175-$325 coupon off of the lowest-of-the-year sale price!
And that's not all, folks!
With each purchase made during the season long celebration, you'll receive a FREE accessory package hand-picked by the man, the myth, the guitar legend, Dennis Zager himself. Valued at a minimum of $625, this package is the cherry on top of an already sweet deal. So, don't wait, order now and get ready to rock with all the gear you need, compliments of Zager Guitars. Let's get started!
Here's a full list of the Fall sale coupons!
FALL50CE – an extra $175 off for ZAD50 or ZAD50CE
FALL80 – an extra $200 off sale price for any ZAD80
FALL80CE – an extra $275 off sale price for any ZAD80CE
FALL900 – an extra $275 off sale price for any ZAD900
FALL900CE – an extra $325 off sale price for any ZAD900CE