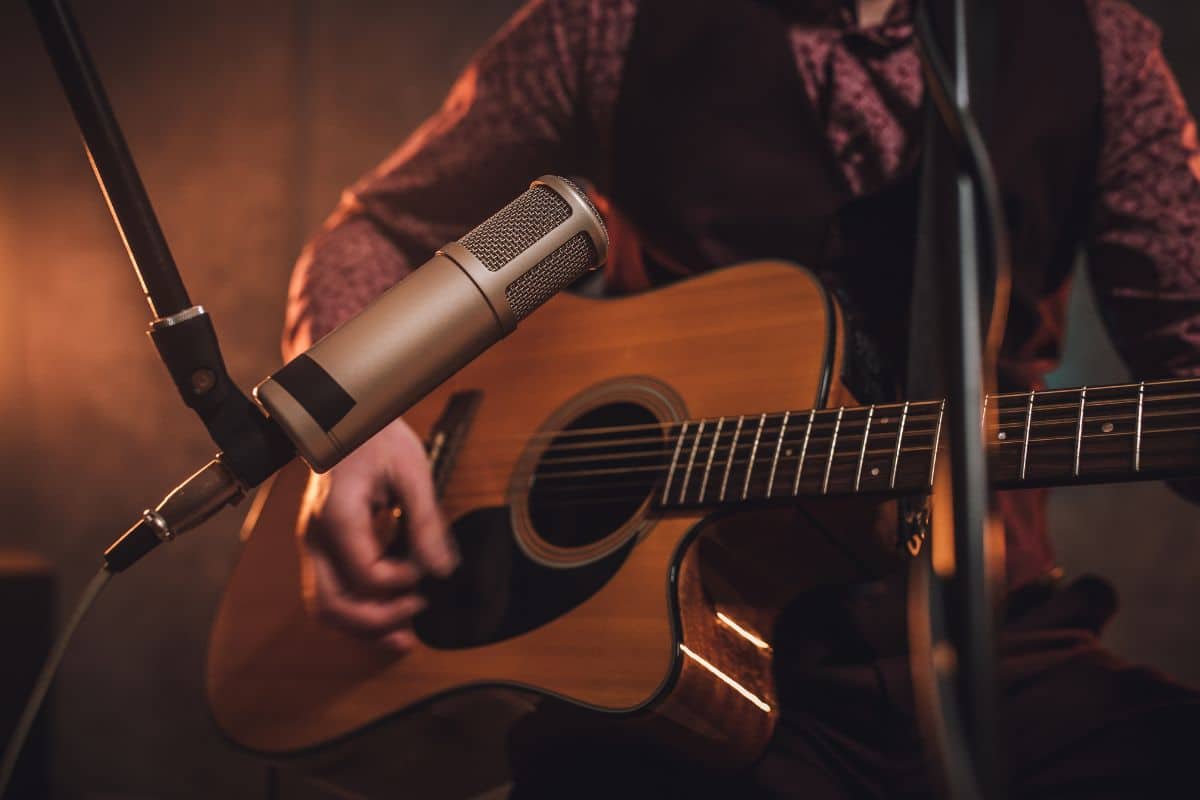 Guitars have evolved significantly, eliminating the need for microphones during acoustic sessions. The advent of acoustic-electric guitars seamlessly combines the traditional tones of acoustic with the convenience of electric, offering musicians the freedom to amplify their expressions.
In today's musical landscape, a wide range of acoustic-electric guitars provides abundant choices for artists seeking the ideal resonance for their artistic endeavors.
A Quick Look at the 5 Best Acoustic Electric Guitars
1. Gibson J-45
2. Zager ZAD900CE
3. Fender Acoustasonic
4. Zager ZAD80CE "AURA
5. Epiphone EJ-200SCE
Top 5 Acoustic Electric Guitars of 2024: Our Expert Selections
1. Gibson J-45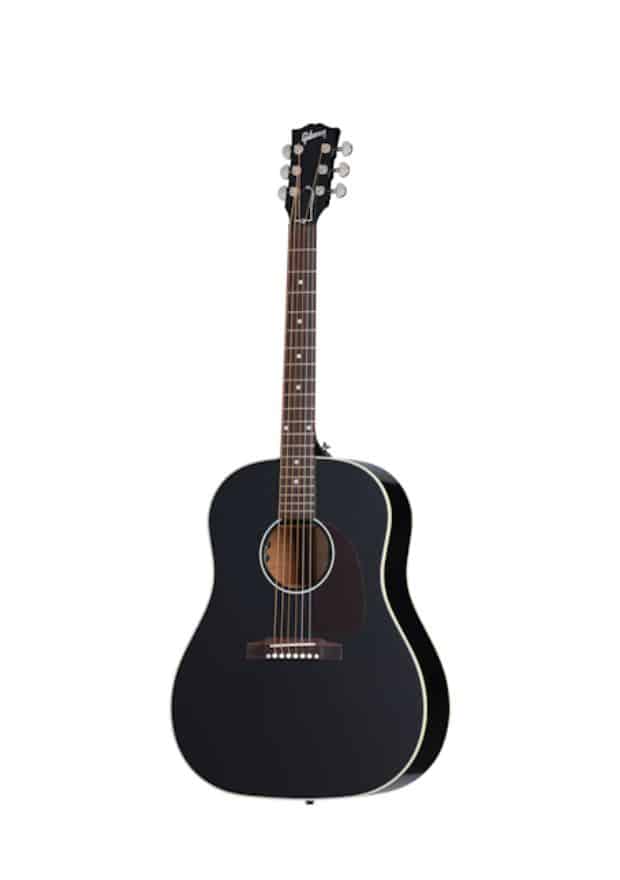 The timeless Gibson J-45, is a great pick in a market flooded with options. This iconic masterpiece is celebrated for its excellence. The J-45 stands as a revered workhorse among guitar enthusiasts, praised for its resonant, dynamic tonality and exceptional playability.
Crafted with precision, the J-45 boasts a round-shoulder dreadnought body shape, with mahogany back and sides complementing its solid Sitka spruce top. The mahogany neck and rosewood fingerboard contribute to the guitar's warm and rich acoustic character, making it a cherished choice for musicians seeking premium sound.
The LR Baggs VTC Under Saddle Pickup is the sonic heart of the J-45, expertly capturing its nuanced tones and faithfully transmitting them to the PA or amplifier. An onboard preamplifier, discreetly equipped with volume control just inside the sound hole, ensures an unobtrusive yet powerful amplification experience.
With no compromises or gimmicks, the Gibson J-45 stands as a testament to uncompromised quality in the world of acoustic-electric guitars.
2. Zager ZAD900CE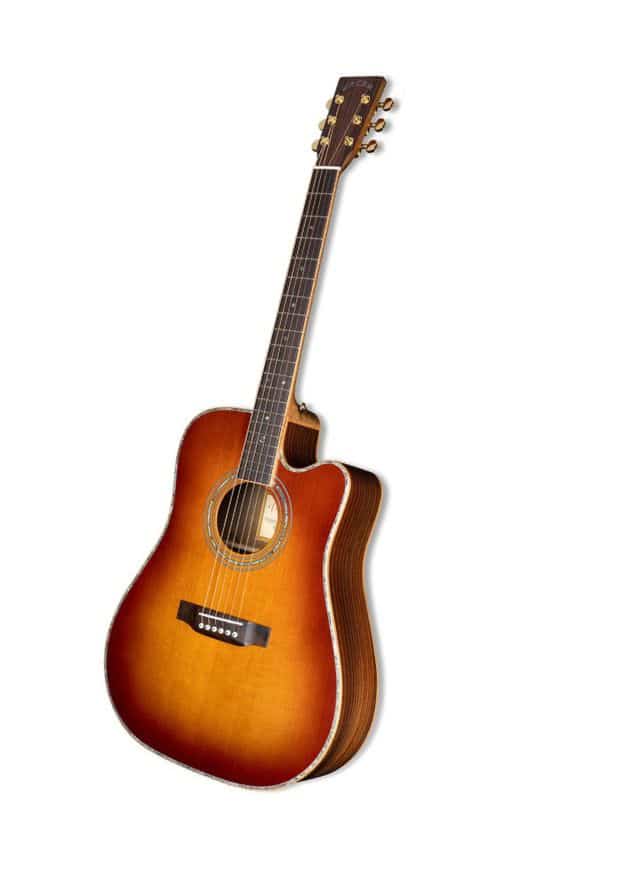 The Zager ZAD900CE stands as another excellent guitar delivering exceptional sound quality, playability, and innovative features. Crafted with a solid Sitka spruce top and Indian rosewood back and sides, this guitar produces a rich, warm, and resonant tone that caters to a broad musical spectrum.
Tonally, the ZAD900CE blends the clarity of Sitka spruce with the warm resonance of Indian rosewood. Its versatile sound accommodates everything from delicate fingerpicking to powerful strumming. The instrument's playability is equally outstanding, featuring a slim, fast neck profile and low action for a smooth and responsive playing experience.
Adding good technology like the Fishman Aura Sound Imaging system, a sophisticated preamp offering tonal sculpting and onboard effects. This transforms the ZAD900CE to be very adaptable to any musical setting.
Built with meticulous attention to detail, Zager Guitars' commitment to excellence is evident in every inch of the ZAD900CE. This instrument is not just a guitar; it's an investment. Whether you're a seasoned performer or an aspiring musician, the ZAD900CE promises to inspire and enrich your musical journey, standing as a companion for years to come.
3. Fender Acoustasonic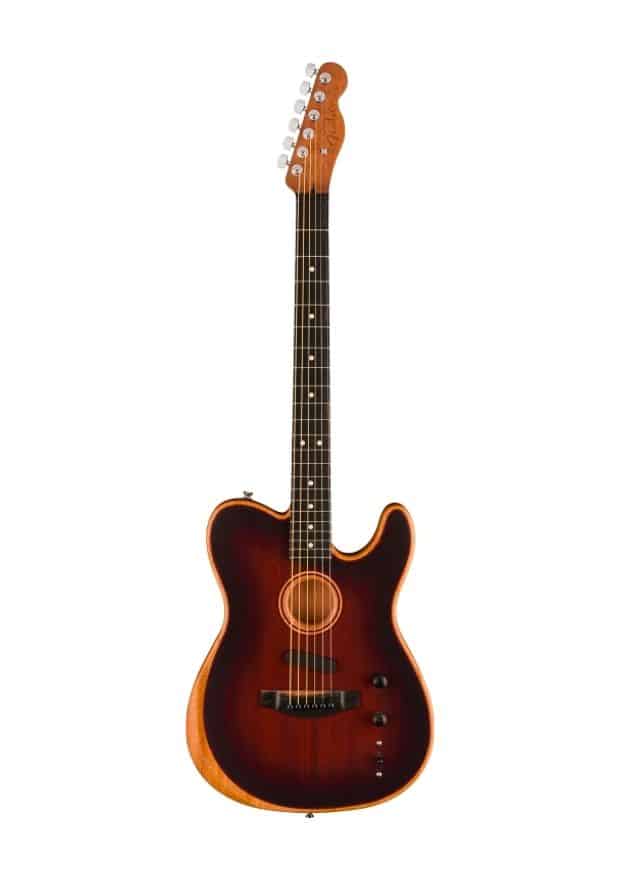 The Fender Acoustasonic is a game-changer. A few years since its introduction, the impact and popularity of this instrument have surpassed all expectations, captivating musicians from J Mascis to Julien Baker.
What sets the Acoustasonic apart is its innovative Acoustasonic Telecaster body shape crafted from mahogany, complemented by a Sitka spruce top and a resonant semi-hollowbody design. This design incorporates a finely tuned soundport, enhancing the acoustic tones when played unplugged—an unexpected delight for players.
However, the true magic happens when the Acoustasonic is connected. Equipped with the N4 Magnetic Single-coil and Under-saddle Piezo pickup, this guitar seamlessly transitions between meticulously crafted acoustic and electric tones. The 3-way blade and blend knob open up a spectrum of sonic possibilities, providing players with a unique and versatile playing experience.
In contrast to some acoustic-electrics that may sound overly bright through sound systems, the Fender Acoustasonic produces warm and dynamic tones, making it an excellent choice for studio use. Its ability to track scratch acoustic guitar parts without interfering with drum overheads further enhances its studio-friendly features.
Despite facing initial skepticism from purists, hybrids like the Acoustasonic establish a lasting presence in the ever-evolving world of guitars due to their undeniable versatility and value.
4. Zager ZAD80CE "AURA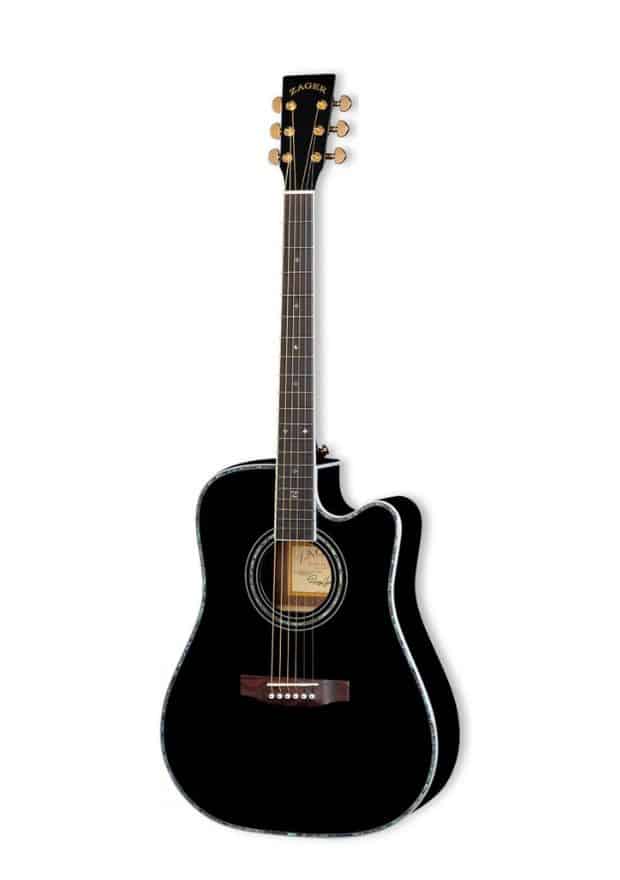 The Zager ZAD80CE "AURA" Black Lacquer Special Edition, is one of the very best from the brand. Skillfully crafted with premium tonewoods and adorned with a striking black lacquer finish, this guitar is a visual and auditory marvel.
The combination of solid cedar for the top and Indian rosewood for the back and sides produces warm, rich tones, accommodating a diverse range of musical genres.
Beyond its visual appeal, the ZAD80CE offers easy playability with a slim and fast neck profile, facilitating effortless navigation of the fretboard. The low and easy action ensures precise and clear articulation, making intricate passages a joy to play.
Enhancing its sonic versatility is the Fishman Aura Sound Imaging system, a sophisticated preamp providing a spectrum of tonal options. Whether you seek the natural warmth of an unplugged acoustic or the amplified power for various musical expressions, the Fishman Aura empowers you to shape your sound with precision and creativity.
The ZAD80CE is a perfect example of Zager Guitars' unwavering commitment to quality and innovation. From the selection of premium tonewoods to flawless construction and cutting-edge electronics, every detail is meticulously crafted. This instrument not only delivers exceptional sound and playability but also exudes an aura of refined elegance.
More than just a guitar, the ZAD80CE is an investment in musical expression. With its outstanding sound quality, unmatched playability, and innovative features, it stands as a companion to inspire and enrich your musical journey for years to come, whether you're a seasoned performer or an aspiring musician.
5. Epiphone EJ-200SCE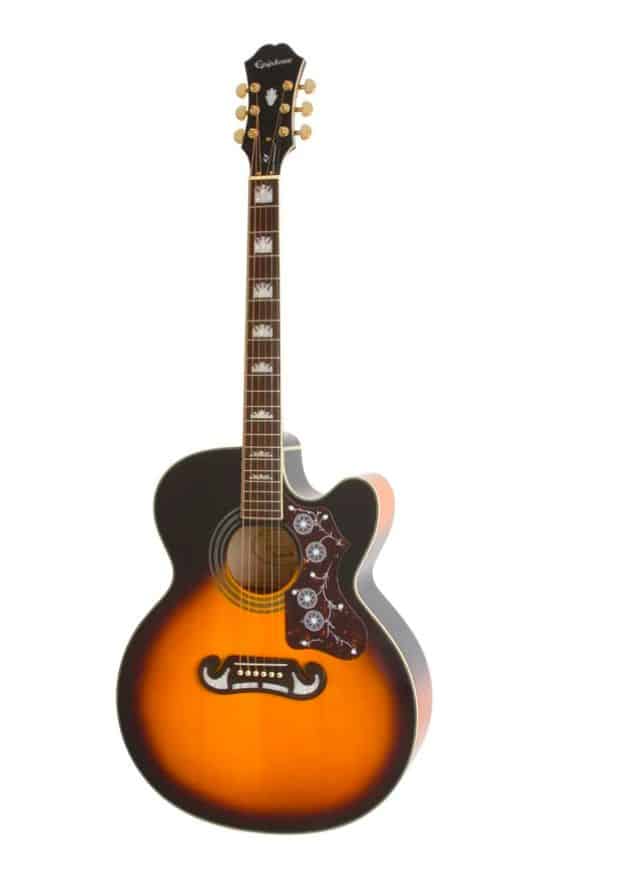 Founded in 1873 by Anastasios Stathopoulos, Epiphone has established itself as a prominent producer of acoustic and electric instruments on the global stage. Initially a rival to Gibson during its New York era, Epiphone underwent evolution over time, eventually being acquired by Gibson to broaden their line of stand-up basses.
A shining example of Epiphone's enduring expertise is the Epiphone EJ-200SCE. Crafted entirely from laminated woods, it boasts unique electronics—a NanoFlex and NanoMag pickup combination. The NanoFlex captures bridge vibrations and body resonance, while the NanoMag, positioned at the fretboard's end, functions akin to a magnetic pickup. The ability to blend between the two provides versatility, complemented by a preamp featuring a tuner, phase switch, and tuner.
Surprisingly, despite its laminated construction, the EJ-200SCE produces a proficient unplugged tone, owing to its resonant body size. Plugged in, it offers a wide range of tones, though achieving optimal results requires time spent fine-tuning the sound. While it competes admirably with more expensive systems, those prioritizing acoustic purity may find alternative models more suitable.
For musicians in search of a reasonably priced, gig-ready guitar with diverse tonal options, the Epiphone EJ-200SCE stands as an enticing choice. However, individuals emphasizing acoustic richness might discover better matches elsewhere.
How To Choose An Acoustic-Electric Guitar: A Buyer's Guide
If you're in the market for an acoustic-electric guitar, navigating the myriad options requires careful consideration. Follow this guide to make sure you get the best of the best without breaking the bank.
Tonewoods
The selection of wood for the top, back, and sides plays a crucial role in shaping the guitar's tone. Different tonewoods, such as spruce for brightness, cedar for warmth, mahogany for balance, and rosewood for complexity, contribute to the overall sonic profile.
Premium guitars often boast solid wood construction, enhancing tone quality. Strum a few chords and pick single notes to assess the guitar's balance, resonance, and sustain.
Onboard Amp
Thoroughly examine the onboard electronics. Prioritize reputable pickup and preamp systems from brands like Fishman, LR Baggs, or Taylor. The quality of these components significantly impacts the guitar's amplified performance, whether through the best acoustic guitar amp or a PA system. Test the onboard controls for volume, tone shaping, and any additional features to ensure optimal versatility.
Budget
Clearly define your budget range before checking the options. Acoustic-electric guitars span a broad price spectrum. There are many cheap options you can go for to get started. However, a more solid future-proof guitar might cost you a few thousand bucks!
Brand Assurance
Consider the reputation of the brand. Established names with a track record of producing reliable and high-quality instruments provide a sense of assurance. Brands like Gibson, Zager, Yamaha, and Fender have earned their renown for consistently delivering dependable acoustic-electric guitars. Opting for a reputable brand enhances confidence in the instrument's performance and durability.
Conclusion
Finding the best acoustic-electric guitar involves considering factors like tonal preferences, electronics, budget, and brand reliability. Each guitar is not just an instrument but a companion in your musical journey.
Choose carefully as your guitar must resonate with your artistic expression, inspire melodies, and elevate your musical experience. Consider the buying guide and further research before making your final decision!